Recent Posts
Recent Comments
Archives
Categories
Birds and Buildings: Small Birds, Big Problems
Can wildlife and architecture co-exist? It seems to be a ever-lasting topic activists debate over. We have heard of birds crashing into airplanes causing millions of dollars of loss while climbing onto the headline of the newspaper. But do you know that hundreds of birds crash into a glass building in New York Cityevery year? These crashes certainly don't make it to the headline, but it does cause some headache for building managers and architects.
(photo credit: Benjamin Norman for The New York Times)
People like ms Laurel, an architect, bird enthusiast and volunteer for the New York City Audubon, patrol the sidewalks and plazas of Manhattan to collect bird victims of the city's forest of glass and concrete.
We live in an age of glass. However, the larger the glass is, the more dangerous it is. New York, as the major stopover for migratory birds on the Atlantic flyby, witnesses an estimated 90,000 birds being killed as they fly into buildings in New York every year, says the Audubon group. They often strike the lower levels of glass facades. Some ornithologists and conservationists say such crashes  are the second-leading cause of death for migrating birds, following after habitat loss.
However, in some areas, architectural regulations are adopted for new buildings. In San Francisco, for example, the San Francisco Planning Commission adopted bird-safety standards for new buildings in July, and is currently making it lawful. The United States Green Building Council, a member of a nonprofit industry group that encourages the creation of environmentally conscious buildings, will introduce a bird-safety credit this fall as part of its environmental certification process, called LEED. Urban Eco Group, as a top tier general contractor in Georgia, is a member of the United States Green Building Council and houses LEED certified staff.
New bird-safety designs and technologies are still in their infancy. Some options include opaque or translucent films, decals, dot patterns, shades, mesh screens, even nets; but they are hard to sell in the high-design world.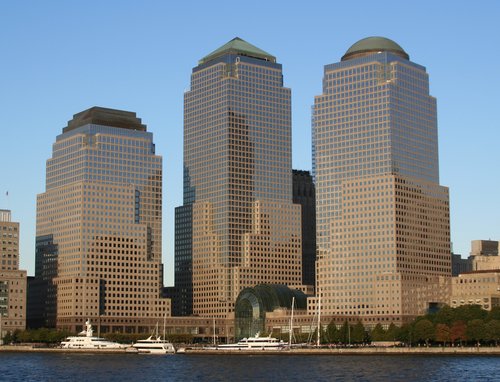 New York City's most prominent structures such as the Metropolitan Museum of Art, the World Financial Center and the Time Warner Center feature glass walls and are located next to parkland or vegetation. These locations are the ones most likely to see bird collisions. New York City Audubon has collected nearly 6,000 dead birds since 1997. The dead birds are carefully bagged and documented to serve as the most potent proof of the need of urgent modification to the buildings. Several years ago in London, 300, volunteers discovered 300 dead birds at the Morgan mail processing center in Chelsea alone, where a row of London plane trees reflected in the mirror facade lured birds to their death. The building's manager agreed to place an opaque cover of the windows and no casualties were found in the following year. The World Trade Center used to have nets on lower floors to prevent bird crashes. During the night time, bright lights are also the death trap for birds. About 90 New York buildings now participate in Lights Out New York, Audubon's initiative to get buildings to turn off lights after midnight during the spring and fall migrations.
Exterior lighting is one of many elements in the Green Building Council's new bird-collision deterrence credit. "I don't know of any architects out there who want to kill birds," said Brendan Owens, a council vice president. "To the extent that the LEED credit raises awareness, I think we'll see more architects sensitive to these issues, which will lead to more companies developing solutions."
Urban Eco provides the highest level of quality services for commercial properties. Our project managers, architects, engineers, construction science professionals, and office staff work seamlessly together with one goal in mind – providing a sound family of services for the ultimate client satisfaction and final product. Our services include construction consulting, general contracting, design build, facility management and maintenance. We pride ourselves to be your No. 1 source for commercial construction in Atlanta. Call  (404) 537-1674 or email info@urbanecogroup.com for further information.